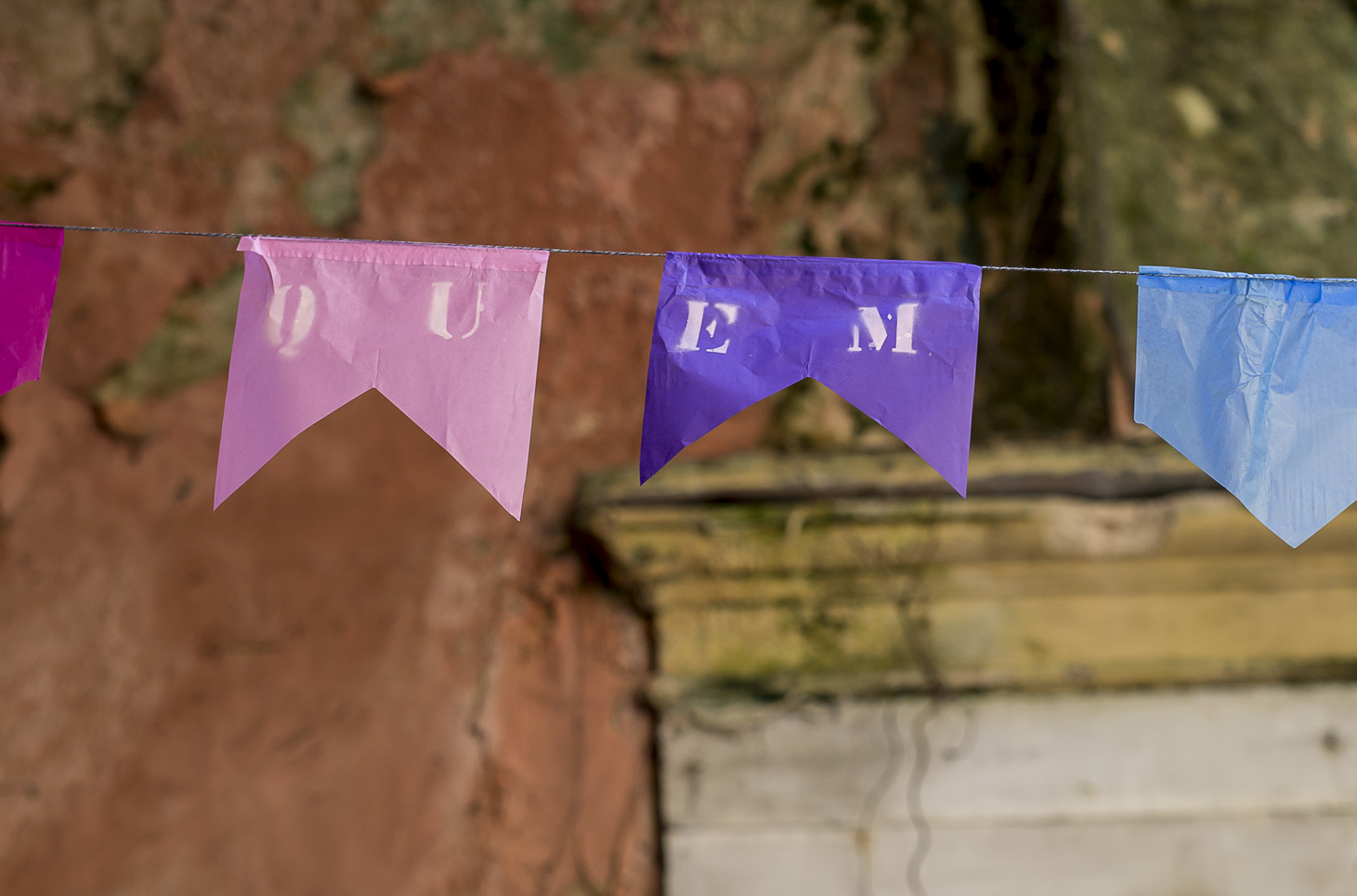 Installation > 300 metres of multicolour buntings in tissue paper, cotton string and white spray paint applied with stencil (variable dimensions)

Square Dance(1) i
s a work created especially for an exhibition with the subject of the Brazilian festivities of June, which took place at the Solar dos Abacaxis, Rio de Janeiro. Throughout the spaces of the old house, over 300 metres of colourful buntings were hung up, in the typical fashion of the festivals of June. Merged with the event's decoration, they showed the statement
"Whoever is not in jail, is currently in the Planalto(2)",
which was repeated, word for word, in every bunting, in every room.
It is about a statement made a few days earlier, by Joesley Batista, chairman of J&F Group, to Época Magazine, still in the context of his plea-bargaining session involving the Operação Lava Jato. Although the entrepreneur would have preferred the term "criminal organization", the interview hit the newsstands carrying the sensationalist headline:
"[Michel] Temer is the boss of the most dangerous gang (quadrilha) in Brazil".
In response to that, the president's trusted man, Rodrigo Rocha Loures – arrested in the act carrying a suitcase with R$ 500,000 in bribes – stated that Joesley himself would be the said
"boss of the gang".
The same accusation was made countless times against former president Luís Inácio Lula da Silva, by columnists of Veja magazine, broadcasters of Radio Joven Pan and by the federal representative (and then pre-candidate to the presidency), Jair Messias Bolsonaro. Joesley, just as Temer and Lula, have tried, via their legal agents, to sue one another for slander and libel, but have never been successful.
The work also pays homage to the artwork
Guirlandes
by French artist Daniel Buren presented in the Documenta 7, in Kassel, 1982.
•••



1 A pun with the word 'Quadrilha', which means both square dance and a gang of bandits.

2 Planalto – a reference to the seat of Brazilian Parliament, in Brasilia.
Photograph > pigment print on cotton paper (100 x 66,5 cm)
credits
photography João Paulo Racy
thanks to Bernardo Mosqueira and Solar dos Abacaxis Team