Polaroids > 03 snapshots (8 x 8 cm each), 2011

In order to self-diagnose as having an unknown sleep disorder, consisting of the impossibility of waking up at a scheduled time, I've carried out a homemade experiment: for a whole month, I would sleep with a watchman's clock tied around me — the type of clocking system used in the 19th century to ensure that watchmen were doing their patrols in factories and warehouses — in order to keep track of my nocturnal activities.

Every time I felt I was waking up, I would activate the mechanism of the control device, printing in a roll of paper inside of it the exact time of my waking. Upon comparing the discrepancy between the time set on the alarm and the time recorded in the paper, I was able to determine in a strictly mechanical way, how much time it actually takes me to get up every morning.

With over 30 alarm clocks in operation, the installation presents the method and results of this "case study" in first person. A long eponymous essay, conjugating Freud's science of dreams, the structures of domination in Industrial Capitalism and the Mad Love of the Surrealists; completes the work — a mixture of theoretical investigation and artistic practice.

Photographic polyptych > series of 09 inkjet prints on photographic paper (43 x 30 cm each)

Photograph > mineral pigment print on cotton paper (100 x 67.5 cm), 2016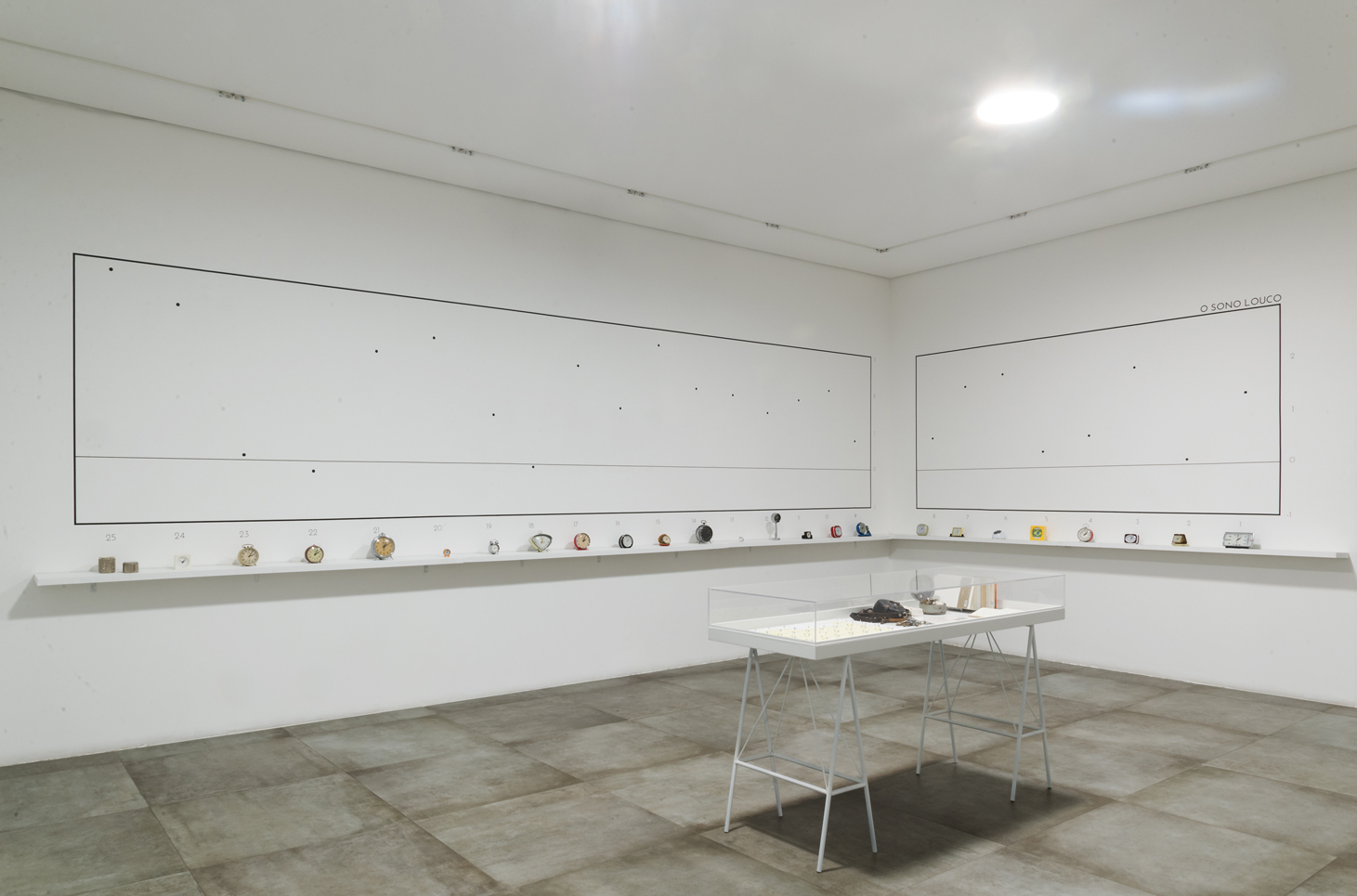 Views of the work in the exhibition Unânime noite v.1, at Galeria Bolsa de Arte, São Paulo, 2016
Installation > 31 mechanical alarm clocks, wooden shelves, metal/acrylic and wood display, nightwatchman's clock, reference board with paper reels, panels in adhesive vinyl, books, artist's notebook, projection of excerpts of Fritz Lang's "M" in loop (variable dimensions)