Frame with screen capture of Terry Gilliam's Brazil, 1985
Photograph > mineral pigment print on cotton paper (150 x 100 cm)

(Still) Brazil is an investigation on the representation of Brazil in different cultures, as it appears in foreign cinematographic works. The work brings together 250 stills out of a compilation of almost 1000 fiction features produced and shot abroad in which the words "Brazil" and "Brazilian" appear for no particular reason, always unrelated to the unfolding of the plot.

The exemplary case is Brazil (1985), by Terry Gilliam, a dystopic science fiction film showing no connection to the country, except for the constantly played score Aquarela do Brasil by Ary Barroso. More than the earnest documentaries about the country, those apparently unimportant little references, lost in fictitious dialogues, hold the true unconscious images of exoticism. Distant both in time and space, Brazil serves as the underside for all those films, like a black hole in the scripts, to which all the characters' promises, dreams or escapes are sent, never to be accomplished.

(Still) Brazil was also conceived as a film itself, in which each piece explores (and sets aside) a cinematic feature: sound, moving image, still, spec sheet etc.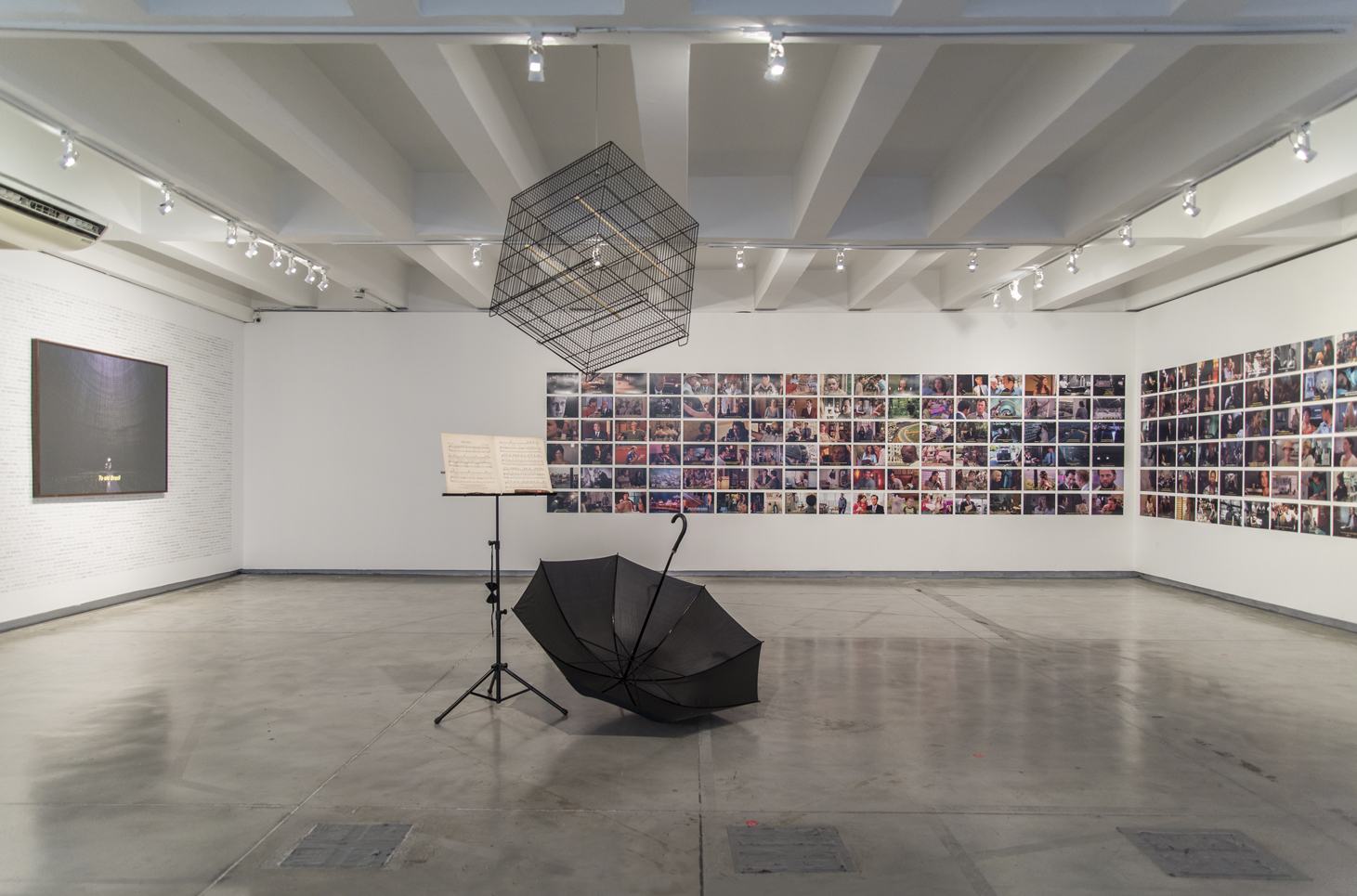 Installation > Views of the exhibition at Paço das Artes, São Paulo (total variable dimensions)

List featuring the movie title, director, year, country of production and the exact minute count wherein the words "Brazil" or "Brazilian" are mentioned in 877 international fiction films, ordered alphabetically

Panel > adhesive vinyl (variable dimensions)

Set of screen captures from 250 international films in the precise scenes where there's a mention to Brazil, with subtitles in the original language, also presented in metal boxes with screen prints of Aquarela do Brasil

Box and stills > 5 silk screened metal boxes (32 x 23 x 6 cm), each containing 50 prints on photographic paper (20 x 30 cm each)

Set of objects referring to the character Joe Carioca, created by Walt Disney in 1942, including the original score of the cartoon Saludos, Amigos! with English translation of Aquarela do Brasil.

Objects > Music sheet, metal cage, umbrella, music stand, bow tie and cigar (variable dimensions)
Compilation featuring 80 foreign versions of the song Aquarela do Brasil, written by Ary Barroso in 1939, in all languages except Portuguese and every genre except samba.

Sound piece > 1 audio track, stereo sound, 03:56:35' on loop

Editing of the films Land in Anguish (1967) by Glauber Rocha, Macunaíma (1969), by Joaquim Pedro de Andrade, and The Mercenaries (2010) by Sylvester Stallone, all of them shot at the School of Visual Arts of Parque Lage, in Rio de Janeiro. Once removed all the fictional elements of those movies — such as dialogue, characters, sound and story — all there is left to see are the architectural fragments of the palazzo, views of the pool, facade, columns, doors and corridors.

Moving images > 3 digital videos, respectively 00:36', 01:18' and 01:46', in loop